***************************************************
International School for Strangeness Nuclear Physics
( SNP School 2016 )
November 18th, Friday to 20th, Sunday, 2016
Tohoku University, Sendai, JAPAN
*************************************************************
SNP School 2016 was successfully finished.
Thank you for your participation.
SNP School 2016 Hashimoto-prize was awarded to Shin Hyung Kim (Korea University).
SNP School 2016 Incentive prize was awarded to Yuichi Toyama (Tohoku University).
Congratulations to Shin Hyung and Yuichi!
<![if !vml]>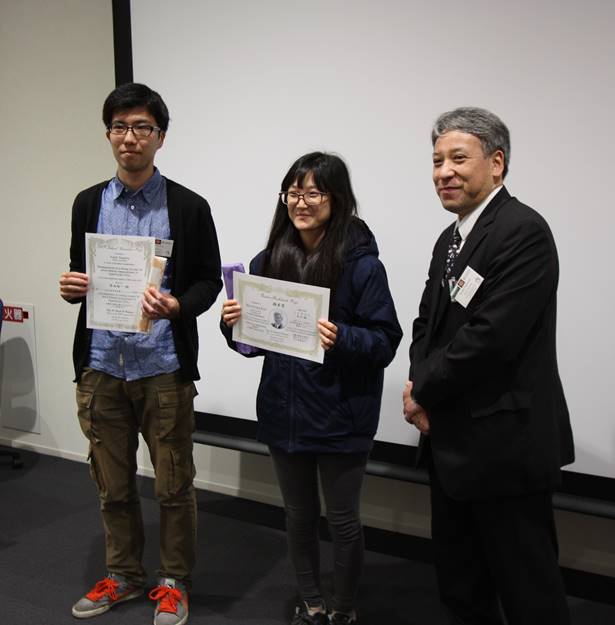 <![endif]>
Lecture slides are here (password guarded).
You can also find snapshot pictures.
<![if !vml]>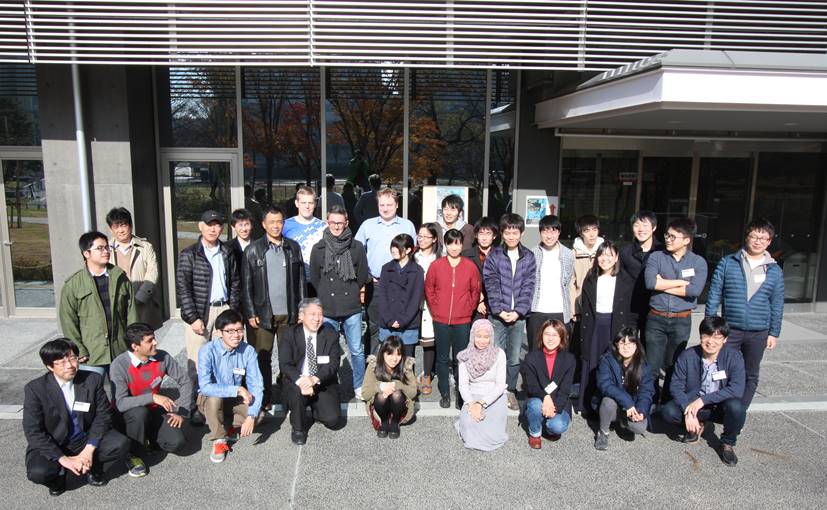 <![endif]>
Final announcement and last minute information can be found at the following URL:
http://lambda.phys.tohoku.ac.jp/snpsc2016/Final-announcement-and-last-min-info.pdf
Please confirm your reservation of the hotel rooms and Sakunami session from the following links if you asked arrange of accommodation in Sendai or at Sakunami hot-spring session.
Access ID and password were already sent to participants. If you have any problem, please contact with the organizer.
Accommodation in Sendai city: http://lambda.phys.tohoku.ac.jp/snpsc2016/hotel/
Sakunami session: http://lambda.phys.tohoku.ac.jp/snpsc2016/hotel/sakunami-list.htm
Detailed information on such as access to the conference venue and hotel locations is given in the above hotel assignment links..
We are pleased to announce that the SNP School 2016 will take place on the campus of Tohoku University, Sendai from November 18rd to 20th, 2016. This school is the fifth school of a series of SNP schools 2012, 2013, 2014 and 2015. This year, the school is organized as the pre-conference event of the International Symposium on Neutron Star Matter (NSMAT2016) and The 8th Asian Nuclear Physics Association Symposium (ANPhA2016) to be held at Tohoku University from November 21th through 25th. We encourage young scientists who intend to participate in NSMAT2016 and ANPhA2016 to join also the SNP School 2016 and to present their research at the young researchers' session.
Graduate School of Science, Tohoku University, ELPH of Tohoku Univ., RCNP of Osaka Univ., Graduate Program on Physics for the Universe of Tohoku University host the SNP School in close cooperation among Nishina Center of RIKEN, ANPhA, J-PARC center of JAEA/KEK and grant-in-aid for scientific research on innovative areas "Nuclear matter in neutron stars investigated by experiments and astronomical observations."
The school will have a series of lectures and topical talks on the strangeness nuclear physics as well as the hadron physics in general which should play central roles in the 21st century nuclear physics research at accelerator facilities including hadron machines such as J-PARC (Japan), FAIR project at GSI (Germany), RHIC at BNL (USA), electron machines as CEBAF at Jefferson Lab (USA), MAMI-C at Mainz Univ. (Germany) and ELPH at Tohoku Univ. (Japan) etc. in the world. Lectures by leading physicists will overview the related subjects both from experiment and from theory. Topical talks on recent progress and future prospects of the fields, and presentations by the participants will be also arranged. One can see the program and other information of the previous SNP School 2015 at http://lambda.phys.tohoku.ac.jp/snpsc2015/.
It is our intention to establish a new tradition of the school and develop it as an opportunity to foster active young physicists in wide fields of nuclear and related physics to be pursued around J-PARC in the future. Therefore the participants of the school are assumed to be graduate students and young scientists who have strong motivation to carry out the future nuclear physics research. Together with lecturers who are leaders in these fields, senior participants are also welcome to vitalize the school.
Lecture Program
| | | | | | | | |
| --- | --- | --- | --- | --- | --- | --- | --- |
| 11/18 (Fri) |   | | 11/19 (Sat) |   | | 11/20 (Sun) |   |
| 08:50-09:00 | Opening | | 09:00-10:15 | Khoa | | 09:00-10:15 | Ahn |
| 09:00-10:15 | Ma | | 10:30-11:45 | Participants' session | | 10:30-11:45 | Ahn |
| 10:30-11:45 | Ma | |   | Lunch | |   | Lunch |
|   | Lunch | | 13:00-14:15 | Ahn | |   | Move to ELPH |
| 13:00-14:15 | Ma | | 14:30-15:45 | Participants' session | | 14:30-15:45 | Suda (@ELPH) |
| 14:30-15:45 | Lonardoni | | 15:45-16:50 | Participants' session | | 16:00-17:15 | Tour at ELPH |
| 16:00-17:15 | Lonardoni | | 17:00- | Poster Session | |   | Closing Session |
Lectures
Y-G. Ma (SINAP)

"Strangeness Physics at RHIC"

D.T. Khoa (INST, Ha Noi)

"Neutron-proton asymmetry and EOS of neutron star matter"

J.-K. Ahn (Korea U.)

"H-dibaryon and related topics"

D. Lonardoni (NSCL-MSU and LANL)

"Quantum Monte Carlo for Strangeness Nuclear Physics"

T. Suda (ELPH-Tohoku)

"Precision determination of proton charge radius by elastic electron scattering

in ultra-low Q2 region at ELPH, Tohoku University"
The school will be held at the Aoba Science Hall in the Aobayama campus of Tohoku University (Sendai, Miyagi pref.). The city of Sendai with a population of one million is the center of the northern part of Japan, "Tohoku District". It is located about 350 km north of Tokyo and can be accessed in 1 hour and 45 minutes by the super-express train (Tohoku Shinkansen). We are planning to visit an electron accelerator facility at ELPH-Tohoku with a lecture as a part of the SNP School 2016.
The school will welcome a maximum of approximately 50 graduate students and young scientists from all over the world both in experiments and in theory. Though budget is quite limited but participants have a chance to have financial support for their local expenses during the school. Deadline of application is the 20th September, 2016. In addition, the organizers strongly advise the persons who need a visa to enter Japan, to contact the organizer as soon as possible, since the issuance of a visa may take a long time.
Young Researchers' Session
There are two kinds of presentation style.
<![if !supportLineBreakNewLine]>
<![endif]>
1)15min. oral presentation + poster: Discussion time is included in 15 min.

2) 5 min. oral presentation + poster: No discussion time for the oral presentation. Discussion will be done during poster session.

Please prepare your poster presentation in A0 size (W 84.1cm×H 118.9cm).
We will select best oral and poster presentations. We will honor them
by awarding Hashimoto prize at the concluding session on 20th.
Latest program of the Young Researchers' Session in pdf format is here.
Tentative Program of the Young Researchers' Session (19th Nov. SNP School 2016) Updated 15th Nov 2016

19th

Nov.

10:30

10:45

Mohd Imran

Aligarh Muslim University

Behavior of the strange sector LN and ΛNN potential strengths in 4LH hypernucleus

10:45

11:00

Shin Hyung Kim

Korea University

A New Time Projection Chamber for H-Dibaryon Search Experiment

11:00

11:15

Seongbae Yang

Seoul National University

First Gamma-Ray Spectroscopy of sd-Shell Hypernucleus, 19LF

11:15

11:30

Jaeyong Lee

Seoul National University

Status of the experiment for measurement of X atomic X-rays at J-PARC

11:30

11:45

Takuya Nanamura

Kyoto University

Magnetic Field measurement of the S-2S D1 magnet

14:30

14:45

Alexander Averyanov

JINR, Dubna

Status of HyperNIS experiment at Nuclotron

14:45

15:00

Dmitrii Krivenkov

JINR, Dubna

Polarimeters for Nuclotron

15:00

15:15

Atomu Watanabe

Tohoku University

Experiment of p-3He elastic scattering using polarized 3He target

15:15

15:30

Yuichi Toyama

Tohoku University

Developments of a timing counter for direct lifetime measurements of hypernuclei(TDL)

15:45

15:50

Bishnu Pandey

Hampton University

Kinematics calculation on the feasibility of a L-p scattering experiment using tagged photon beam at ELPH

15:50

15:55

Shota Matsumoto

Kyoto university

Precision spectroscopy of deeply bound pionic states in tin isotopes at RIBF

15:55

16:00

Masaya Ichikawa

Kyoto university

Development of a scintillating ber target for the S = -2 hypernuclear spectroscopy

16:00

16:05

Kazuya Kobayashi

Osaka University

Development of an aerogel Cherenkov counter for the Sp scattering experiment

16:05

16:10

Ami Koshikawa

Kyoto university

Cross-section measurement of the 4He(a,n)7Be reaction for the cosmological 7Li problem

16:10

16:15

Hiroki Takeuchi

Tohoku Univeristy

Design of MRPC for K/p separation and its applications at ELPH

16:15

16:20

Yuta Muroi

Tohoku Univeristy

Investigation of γd→dπ+π- reaction around the ΔΔ threshold region with the NKS2 at ELPH

16:20

16:25

Genki Aida

Tohoku Univeristy

Optimization of the septum magnets used in the high precision spectroscopy for an isospin dependence study of the N interaction

16:25

16:30

Manami Fujita

Tohoku Univeristy

Performance of Ge detector system for X-ray spectroscopic experiment(J-PARC E07)

16:30

16:35

Shotaro Ozawa

Tohoku Univeristy

Construction of a cylindrical fiber tracker and its readout preparation for a Sp scattering experiment

16:35

16:40

Imro'atus Syarifatul Hasanah

Tohoku Univeristy

Analysis status of strangeness photoproduction experiment performed with the Neutral Kaon Spectrometer 2 (NKS2)

16:40

16:45

Yu Ogura

Tohoku Univeristy

Development of a calibration method with a LSO pulser for the X-atom X-ray spectroscopy at J-PARC

16:45

16:55

Sakiko Ashikaga

Kyoto university

Performance evaluation of lead glass calorimeter for measurements of spectral change of vector mesons in nuclei

17:00

Poster Session

No registration fee for the SNP School 2016 is necessary.
Important dates:
1st announcement July, 2016
2nd announcement August 2016
Application deadline September 26, 2016 (extended)
Final announcement November 10, 2016
SNP School 2016 November 18-20, 2016
NSMAT2016 November 21-24, 2016
(Sakunami Session, a part of NSMAT2016 Night of 23rd)
ANPhA2016 November 24-25

Contact:
Prof. Satoshi N Nakamura
Dept. of Physics, Graduate School of Science, Tohoku University,
Aoba-ku, Sendai 980-8578, JAPAN
E-mail: snpsc16@lambda.phys.tohoku.ac.jp
Please forward this announcement to students and colleagues who
may be interested.

Best regards,
Prof. Satoshi N. Nakamura, Chair of the SNP School 2016
Department of Physics, School of Science, Tohoku University